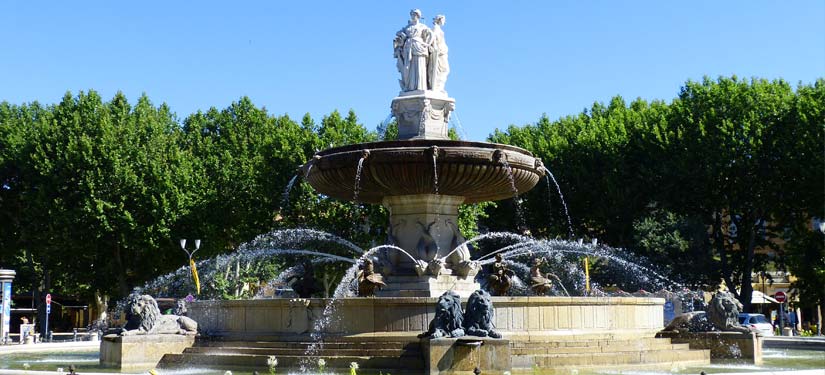 Aix-en-Provence: the real estate market continues
Despite a slight recovery in activity, widening gaps between geographic areas. The center always seduced and small areas easily depart. On the outskirts of Aix, the villas of over € 450,000 are however increasingly difficult lessee.
Without flourish, the housing market continues year after year to Aix and its periphery. 'Last year, trading volume jumped 18%, from 550 to 650 signatures', states in this regard Jean-Sébastien Duracher, communications delegate in the House of the Bouches-du notaries Rhone. Before judging 'particularly poor' total sales in 2013 ... The prices, they continue to remain at a high level.
In Aix intramural, they even increased 5% in the former to stand at around € 3,800 per square meter. 'It is especially the small areas that drain well: they will rent without problem at one of 35,000 students that the city every year, 'warns Nathalie Henon, the Rotonde-Mirabeau agency. As this 19m2 studio close faculties, purchased in three weeks to just under € 5,000 per square meter!
''The houses and large apartments leave much more difficult, 'observes Philippe Chabanne, of Property Agreement. The reason ? 'Many homeowners who bought during the boom years prefer to defer the sale of their property, rather than to reduce their price', replies the realtor. A wait that dry up the market and maintain prices at levels artificially high ', Judge Beatrice Liabaud, the Properties Aix-Opera. 'Many people are crossing their fingers until a Parisian or foreign buyer fall for a product which he would not discuss the amount,' confirms Philippe Chabanne.
Multiplication rebates owners
But this clientele is increasingly rare find professionals. Besides, every note since spring multiplication kickbacks from owners who are forced to sell. Mazarin near the street, 180m2 with a garage is such party in April at a price of € 4,200 per square meter, instead of the € 4700 claimed at first ... 'As for luxury housing Allées- Provence, bought € 9,000 per square meter five years ago, they now struggle to find buyers per square meter to 6,000 €, 'notes Philippe Chabanne.
North and what to call the Aix basin, real estate is frankly struggling. Prices of old apartments have fallen by about 5% to around € 3,000 per square meter. In the flooded homes of greenery, but a little aging, urban wreath near the Aix hospital, it is now possible to find large bright apartments for less than € 2,700 per square meter. 'Here, it's mostly the house market is leaded' worries Dominique Avon, the Real Carnot, in Puyricard.
Prices of villas fall
This impression was confirmed by the notary figures showing 2014 a 10% decline in volumes and prices in this part of the Aix conurbation. 'Since, villas prices have continued to fall', provides Martial Badia, of Real Estate News, an agency specialized in this type of product. Recently, the owner of a country house in Jouques did not hesitate to drop in one day the price of € 50,000, 'not to run the risk of missing a buying opportunity.'
Fort dynamic business areas of Miles and the Duranne crossed by the A8 and the A51 linking the Marseille Marignane and Salon-de-Provence, southern Aix appears relatively preserved. Towards Aix airport, but also to Miles and Luynes, asset families continue to tear subdivision houses at rates that hover around € 3,000 per square meter. A Callas, or Cabriès Bouc-Bel-Air, villas with swimming pool and landscaped garden leave without problem around € 3,500 per square meter. Further east, near Rousset Trets, prices drop a notch. First-time buyers and families looking for large spaces will find recent pavilions with field rates below € 3,200 per square meter. What remains expensive, unanimously consider realtors. Too expensive?
© L'Express - published on Barnes Provence Littoral on 04/04/2016
Read this article in its integrality by clicking on the following link:
http://www.lexpress.fr/actualite/immobilier/aix-en-provence-le-marche-immob...